Abel Rodriguez (b. 1941)
Terraza Alta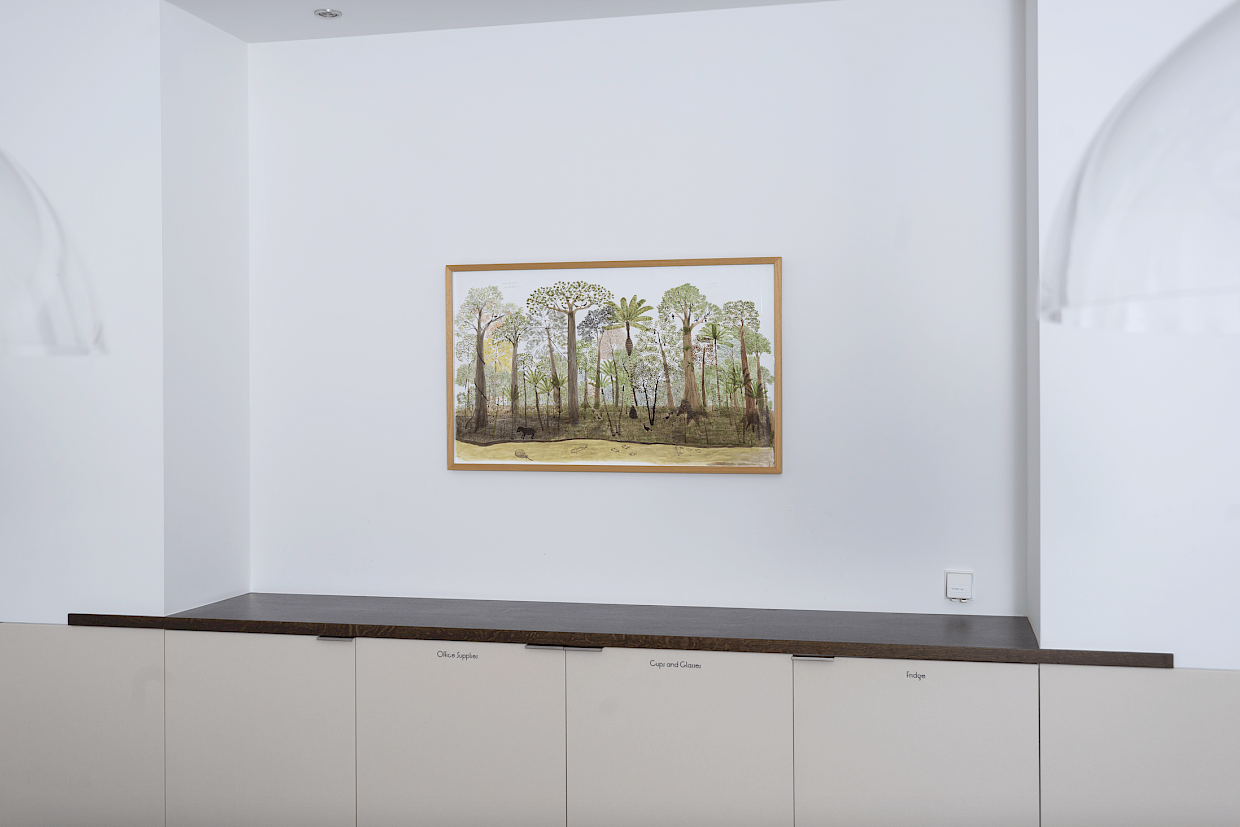 During the spring of 2015, the Conde Duque museum in Madrid hosted a small exhibition featuring nine Colombian artists. One artist immediately stood out due to his originality and individuality: Abel Rodriguez. His somewhat naive drawings of the Amazon rainforest immediately strike you as pure and genuine. The drawings have clearly not been produced for the art market, but are the result of a deeply rooted love for the subject: "his" rainforest.
Abel Rodriguez is about 80 years of age and has only been drawing for fifteen years. Almost twenty years ago, the FARC expelled him, his wife and children from the Amazon rainforest, where he'd lived his entire life. At the time of his forced departure, he was the tribal elder of the Nonuya Indians and leaving his home ground was very difficult for him. While living in a rough suburb of Bogotá, his heartbreak started to gradually play up and he answered it by creating watercolours based on the memories of his native soil. His beautiful drawings are recognised by the Tropical Forest Alliance in Bogotá, an NGO dedicated to the preservation of the rainforest. They offer him a small salary in exchange for the drawings and Abel's knowledge of the rainforest.
It wasn't until 2018 that Rodriguez actually started selling his work to art enthusiasts and collectors. Local tribal culture prohibits him from making money from his native soil, the Amazon Rainforest. He's a rainforest conservation activist, and on the rare occasions that Rodriguez sells his work, the majority of the proceeds go to his campaign.
Abel Rodriguez (b. 1941)
Terraza Alta 2017
Despite the fact Rodriguez doesn't see himself as an artist, there is ample reason to argue he is. Due to his modest nature, he tends to avoid antagonistic confrontation. Rather, Rodriguez speaks through his drawings. The trees, plants and animals are represented in an almost childish way, but many details, especially when it comes to plant life, are meticulously correct. Even if the viewer isn't acquainted with Rodriguez's history, his attachment to his subject is palpable. And although he almost always portrays the same thing, namely, the rainforest during the wet or dry season, his drawings are never mechanical or clichéd. The seasonal differences in the rainforest seem modest at first sight, but the animal population changes significantly during the drier months, as sandbanks become dry and the foliage less dense.
Rodrigeuz's rich sheets are now also finding their way to museums and institutes. He featured prominently at the 14th Documenta of Kassel in 2017, and in 2020, Abel had a major solo exhibition at Newcastle's prestigious The Baltic. In the Netherlands, the first to buy his work was the Teylers Museum, the oldest scientific museum in the world.