Hendrik Kerstens (b. 1956)
Sunburnt, 2001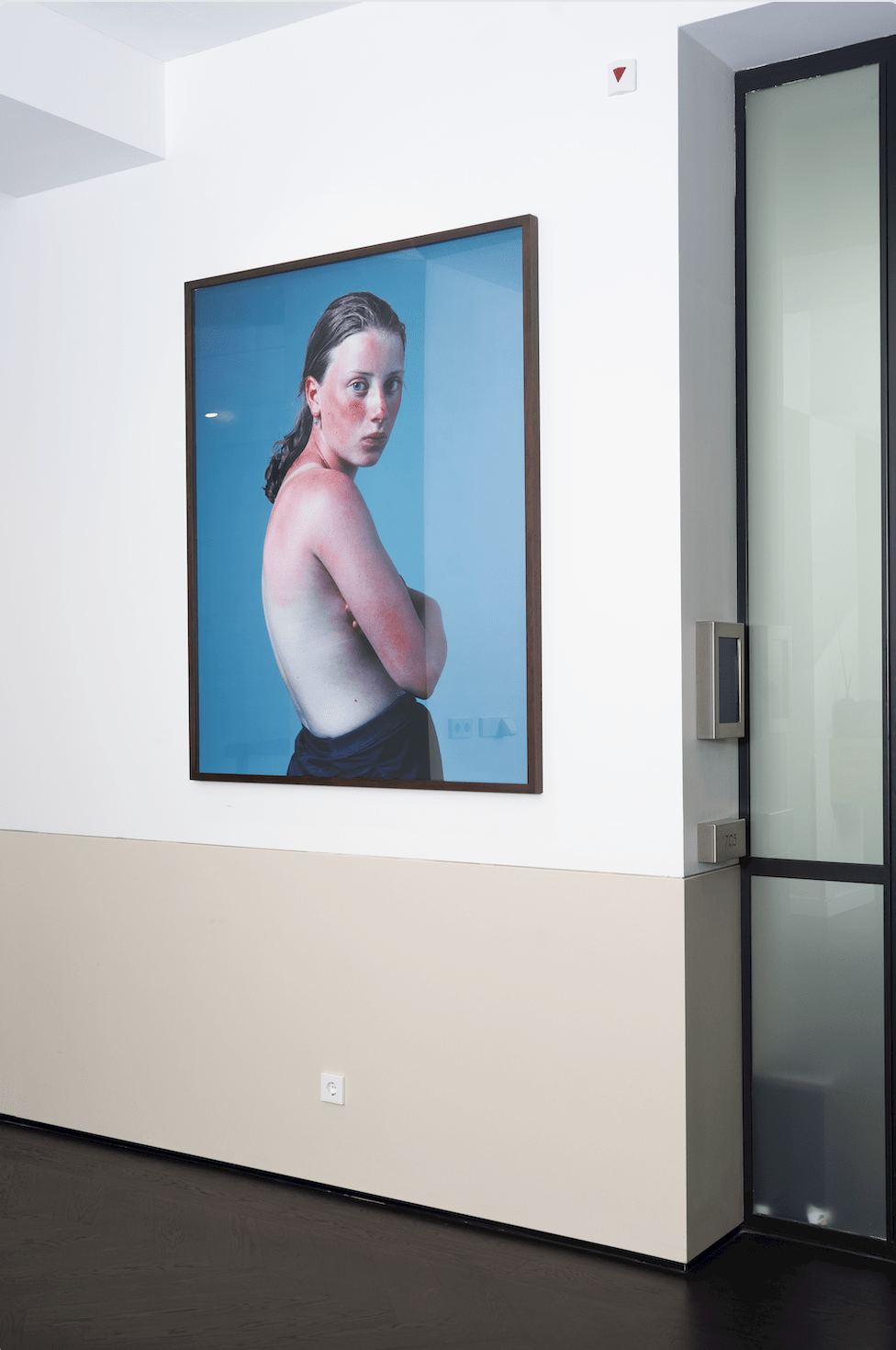 Out of all purchases made for the Allen & Overy collection, Hendrik Kerstens' two photographs are the most discussed among our employees. Especially the photo of a young, sunburnt girl who, with her arms across her chest, turns halfway towards the viewer. Despite the much-heard call for realistic, recognisable figurative art, people find it an uncomfortable and offensive image. Further, the photos are razor-sharp. A little too sharp, perhaps, even though there's nothing terrible to be seen and what you see certainly isn't the result of abuse or a nasty disease. The model had fallen asleep at the beach and the sun coloured her sensitive, pale skin bright red. The shoulder straps of her bathing suit are still visible.
The image matches exactly with what her dad Hendrik Kerstens intends to convey. Initially, his photos were more archival in character, simply meant to document key moments in the development of his daughter's life. Later on, he expanded that repertoire, adding day-to-day happenings such as this one and a higher frequency of staged photos.
Hendrik Kerstens (b. 1956)
Black Cap
His daughter Paula regularly models for Kerstens. Her classical face, with her expressionless, posed gaze, returns in many of his photos. Kerstens earned his fame with portraits of his daughter wearing old-fashioned headgear from the 17th century and the Italian Renaissance, which upon closer inspection were actually made of plastic bags, toilet rolls, bin bags, tin cans or carefully draped towels. The photo where she wears a crumpled plastic bag on her head has become an iconic image. This nod to fashion from yesteryear is apparently well received, as Kersten's work is in high demand. It even made it into the American design and fashion publication Harper's Bazaar and received positive reviews in several magazines. For the television show De Gouden Eeuw (The Golden Age), he photographed Dutch TV host Hans Goedkoop wearing a PVC tube as a modern-day version of a ruff. It is an image that could be seen around town several years ago and wittily underlines our connection to the 17th century.
Referencing past times by replicating clothing can be done in many slight variations, but you can also overdo it. That's probably why of late Kerstens' daughter gets to act as a mannequin for increasingly outlandish headgear. As the muse of your photographing father, you apparently have to put up with it. Even a careless sunbathing session will then be mercilessly eternalised on film.