Katja Mater (b. 1979)
Density Drawing 27. The Acrylic Drawing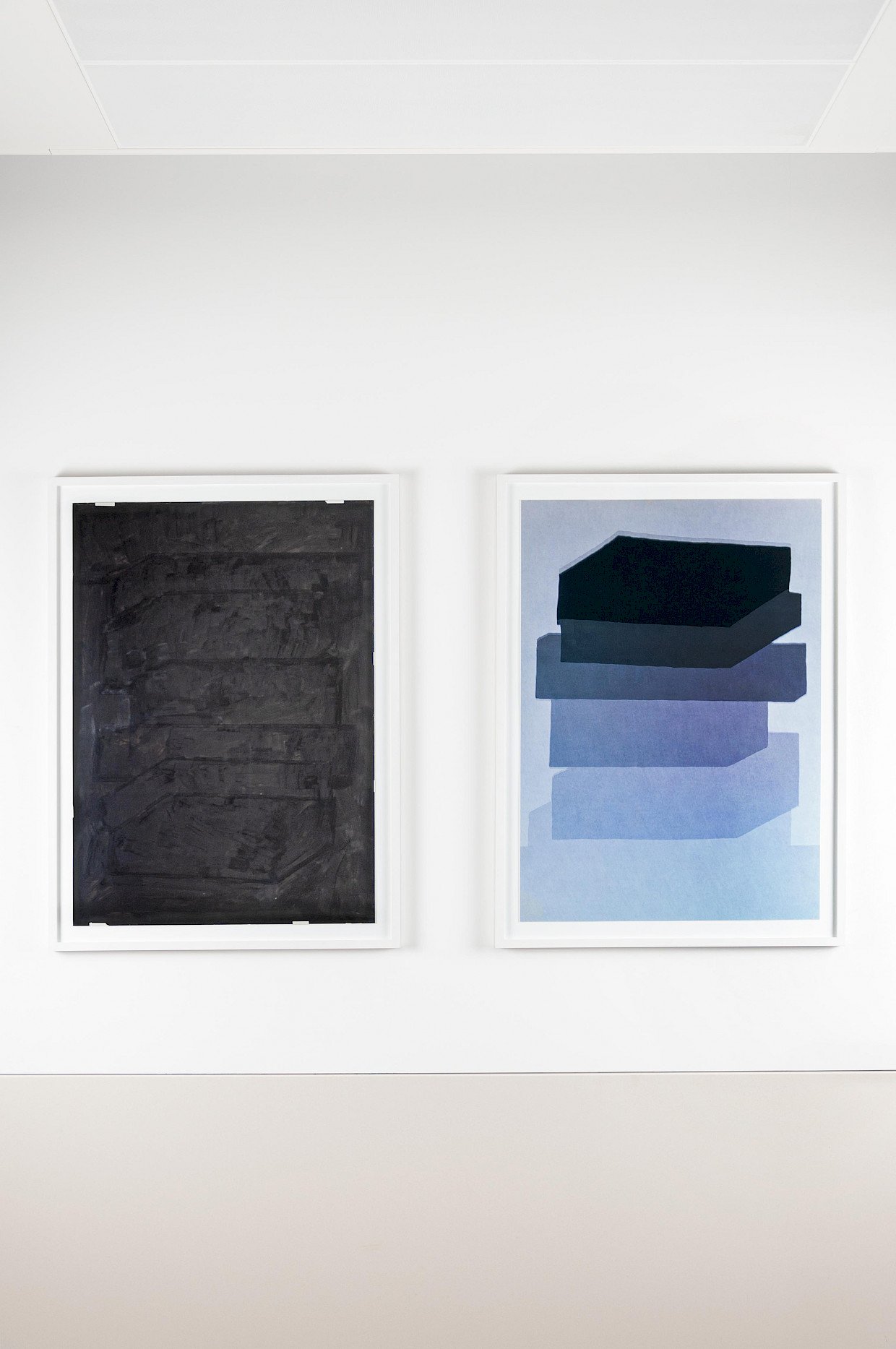 Katja Mater's Density Drawings are fascinating drawings in which she aims to make the concept of "time", which is a recurring subject in Mater's work, visible with the help of photography. These are works in which the creative process plays a major role.
The painted acrylic drawing is made out of a simple stack of cubes. After adding each element (there are six in total), the result was photographed, with the artist using the same negative each time. This way, the first-drawn cube was exposed six times and is, therefore, the darkest element in the photo, which was made with that negative. However, the drawing itself has become completely black due to all of the successive additions. With grazing light, the independent phases can still be clearly distinguished. Mater has reduced the passage of time to a single photograph. A work based on this process, of which she made many versions in different sizes, colours and shapes, actually consists of two parts: a photo showing the progress over time and the actual drawing. It follows that the diptych is literally on the crossroads of painting and photography.
Katja Mater (b. 1979)
Multiple Moments During The Making Of An Acrylic Drawing
This work was previously shown in the Royal Palace on Dam Square, Amsterdam at the exhibition organised for the Royal Award for Modern Painting (de Koninklijke Prijs voor de Vrije Schilderkunst), awarded annually by the head of state. It was presented together with another, yellow-coloured Density Drawing, which was purchased by Queen Beatrix herself at the time. The attention Mater receives, however, isn't exclusively royal. In 2012, a leading professional jury tipped Katja Mater in the influential art magazine Modern Painters as one of the up and coming talents to keep an eye on.
In essence, Allen & Overy strives to acquire more than one work from each artist in its collection. This way, several aspects, in terms of technique, size, development, etc, of the artist's oeuvre can be shown. That is why shortly after this purchase, it was decided to also purchase a smaller diptych in sky blue, which is equally eloquent despite its small size.