Koos Breukel (b. 1962)
Gerard Fieret met pet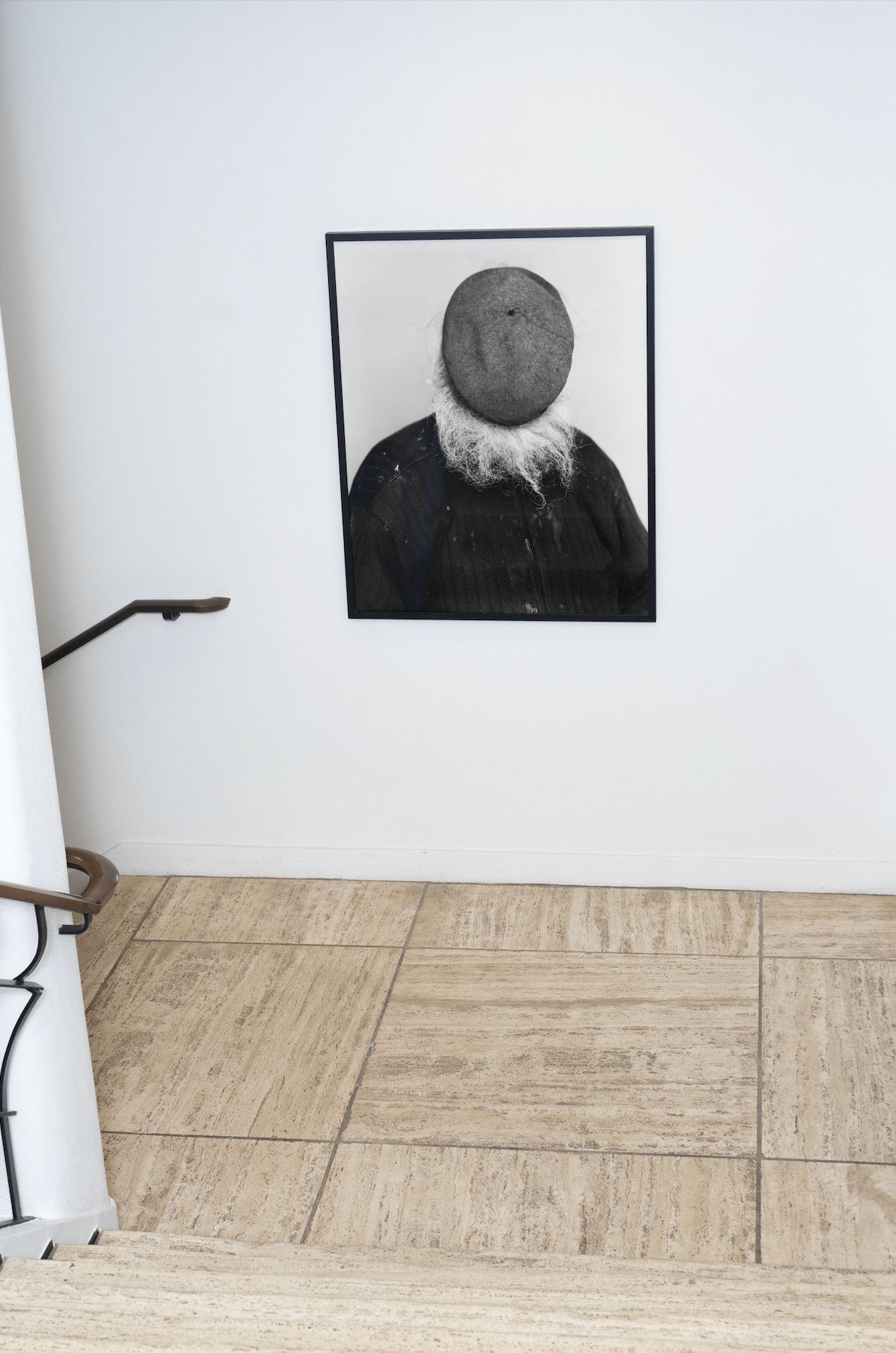 Considering photographer Koos Breukel's status as "a master of the portrait"– he portrayed a large portion of the Dutch cultural elite, including the royal family – this portrait without a face is what one could consider an odd outlier.
The person portrayed is Gerard Fieret (1924-2009), a photographer, poet and illustrator from The Hague. Fieret was eccentric; he had the looks of a homeless person and lived in building sites and messy basements, surrounded by his beloved pigeons. Fieret worked as a photographer for a period of just 15 years (between 1950 and 1965) but he managed to create a unique and inimitable body of work. His sometimes out of focus but often very direct and sensual photos are widely praised and international collector's items.
Despite his apparent nonchalance regarding his prints, which were often covered in stamps and pigeon excrement, Fieret took great pride in his work and he often accused other photographers of plagiarising his original images. Fieret gave the majority of his photographic oeuvre to the Photo Museum in The Hague and the Prentenkabinet (print room) in Leiden. The latter organisation once caught him red-handed stamping photos of Sanne Sannes, one of his famous contemporaries whom he secretly admired.
Breukel is a great admirer of Fieret's work but does not attempt to adapt the latter's style with this portrait. The work is clearly "a Breukel": intense and razor-sharp. He catches Fieret's free-spirited vibe; childishly clownesque and rebellious. On the left side of Fieret's work coat, pigeon excrement is visible, as Fieret was daily surrounded by pigeons at home and on the streets. In The Hague, he was known for balancing big bags of pigeon food on his bicycle.
At first sight, this photograph might remind you of a collage. Fieret covered his face with his hat for a while during the shoot. He may have done this to fool around or because Breukel asked him to do so. Either way, it works well visually and gives the photo its conceptual character.
Although the hat is covering Fieret's face, you can still discern the shape of it. The grey is a little lighter around his head, mostly because of the contrast with the dark hat. It almost adds a halo-like effect to the photo. This photograph is Breukel's way of declaring Fieret a saint during his lifetime. The next step of leaving this world took place only four years later – meaning Breukel really managed to "capture" Fieret's spirit in this photograph.