Koos Buster (Stroucken) (b. 1991)
Waterkoeler Gert (met glaasjes)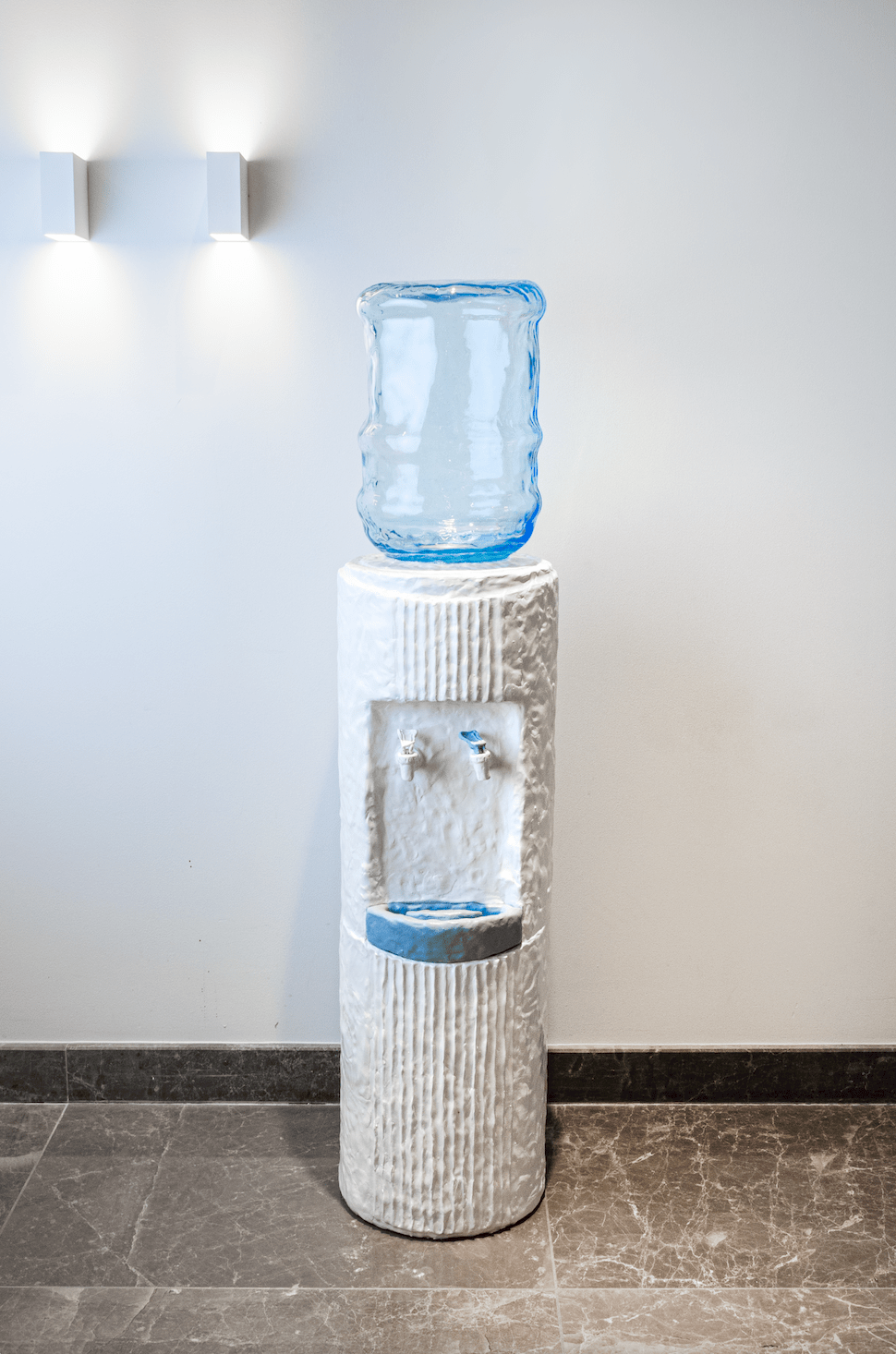 Koos Buster left the Rietveld Academy in 2018 with his sensational final presentation Koos Buster Museum, a wall with painted decorative plates inspired by 17th century Delftware china, which he named "pretty much everything I dislike". Going by the plates, there's a lot Koos Buster doesn't like, such as risotto, brushing his teeth, laziness, a fellow Rietveld student and a nail clipper.
In 2020, Koos Buster was given a "room on the roof-residency" at the Bijenkorf (a department store) in Amsterdam. Not only did he have a studio space in the tower for himself, but he was also allowed to conduct "artistic interventions" in the shop and to style a shop window. Koos Buster's shop window is simply a shop window under construction. It is his tribute to the great Bijenkorf decor designers of yesteryear, such as Benno Premsela and Martin Visser, who, as designers, left a great mark on the store's signature style and, with that, on Dutch taste and trends. The artist places his ceramic fire detectors, a bucket, mop, and even pin machines among all the luxury merchandise. In turn, Koos Buster's artworks were sold by the Bijenkorf as artistic design. The artist has come full circle by honouring a tradition of which he himself has now become a part.
Just like the objects at the Bijenkorf, Waterkoeler Gert (Water Cooler Gert) isn't a perfect imitation of the original. Koos Buster would have been able to apply more skill to his ceramics than he does in this case. An exact imitation would kill any kind of open-mindedness and degrade the work to a copy of something that is already mass-produced. Despite the fact that this work of art will not actually be used, Koos Buster has maintained a certain functionality: if desired, the reservoir can be filled and water can be tapped from it. A water cooler is a utensil that we typically associate with an office-like environment. People gather around the machine, not only to drink but also to have a short break and have a chat. Even without the cooled water, the artist aims to draw in people for a conversation. In that sense, the work is a perfect match with many of the other conversation pieces in the Allen & Overy collection.
The artist does not deliberately limit his works to a set amount, yet each object is unique and handmade. He reserves the right to make new versions/variants. So far, there are three Water Coolers, all three of which carry different names. The first cooler is called Joyce, after the curator of the Glass Museum in Leerdam who invited Koos Buster to hold an exhibition in 2020. The second cooler, Henk, is named after Henk the glassblower, who made the water reservoir. The Allen & Overy version is named after Gert, another glassblower.