Michael Landy (b. 1963)
Semi-detached, John and Ethel Landy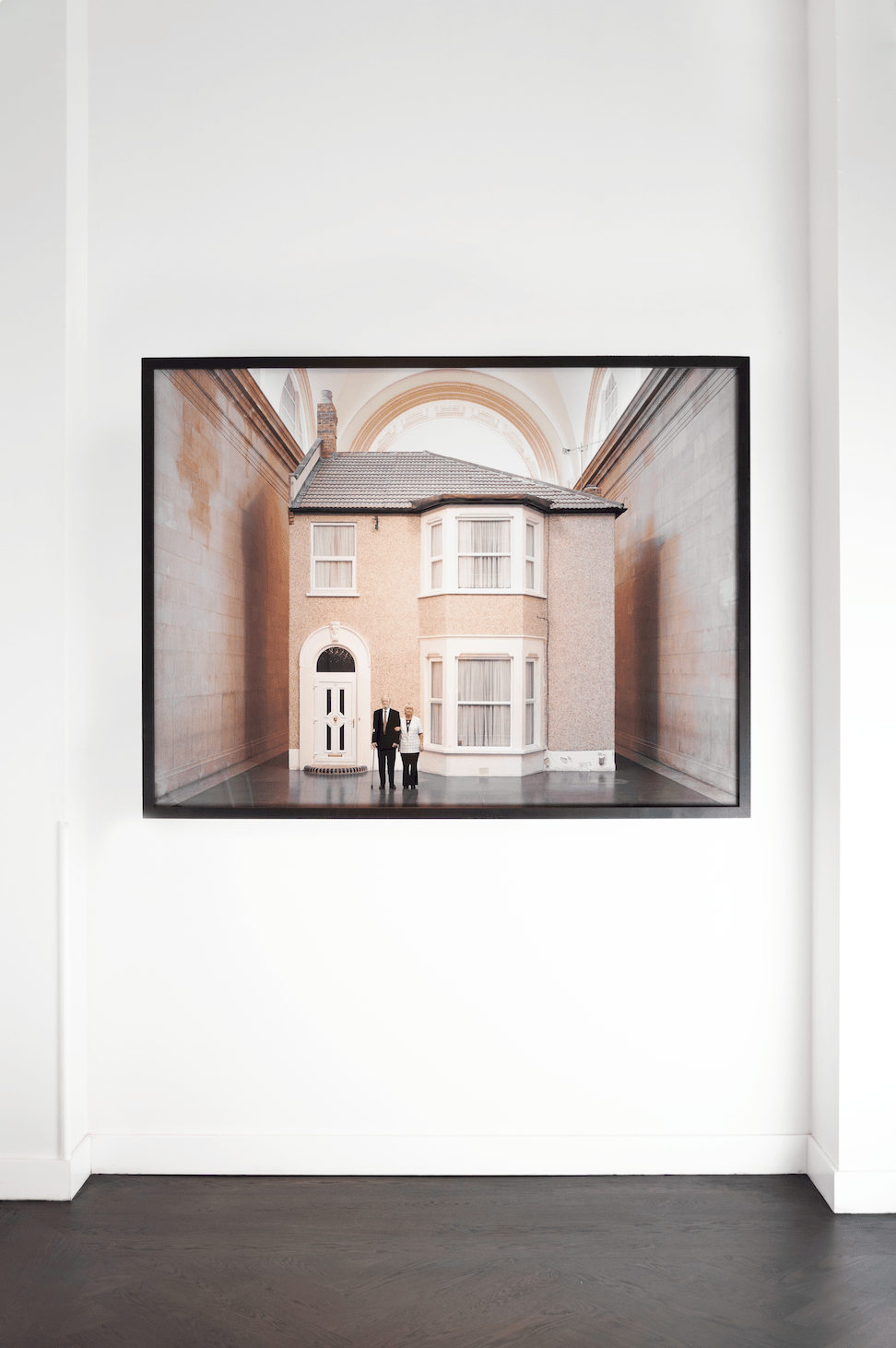 Allen & Overy bought this remarkable photograph by Michael Landy in the summer of 2016, directly from Musée Tinguely, where a major retrospective of his work was on display at the time.
Michael Landy, together with Damien Hirst, Tracy Emin, Sarah Lucas and Chris Ofili, forms the Young British Artists (YBA), whose sensational work caused quite a stir in the art world during the late 1980s. The fact that the museum – normally dedicated to the artist Jean Tinguely – chose to put on a Michael Landy exhibition made complete sense. After all, Landy had been fascinated by Tinguely's famous work Homage to New York (1960) for years already, which consisted of a large mechanical construction that destroyed itself. Inspired by the work, Landy made hundreds of beautiful drawings depicting this self-destructing machine. But Homage to New York has stronger links to Landy's most famous project, Breakdown (2001).
Breakdown is one of the most radical artistic projects ever executed: in it, Landy disposes of all his possessions and has them destroyed in a shredder, one by one. Literally every possession! His clothes, his red Saab 900, signed Beatles records, Landy's birth certificate, his art collection (including paintings by Damien Hirst, which were already worth tons at the time of destruction), the leather jacket his father gave him when he went to Goldsmiths College, his passport, and so on. The execution of the project took weeks and all objects were extensively documented in both inventories and a documentary film. In the last scene of the documentary, Landy is on his way to Bond Street wearing a borrowed robe and slippers while his gallerist, who is about to buy him new clothes, walks next to him…
The photographic work of art Semi-detached is a testimony to another radical artistic act by Michael Landy. In 2004, he rebuilt his childhood home (62, Kingswood Road, Ilford) brick by brick, entirely within the walls of the famous Tate Britain museum. The house is a so-called semi-detached, which is about the highest quality type of dwelling a working-class family can afford. The right half of the austere semidetached house only just fits into the overwhelmingly neoclassical museum space. The contrast between the architectural style of the ruling- and upper class and that of the workers' residence couldn't be greater.
Landy's hard-working father, who became unfit for work after being involved in an accident while digging a tunnel and had to walk with crutches for the rest of his life, poses next to his wife in front of their house. Through this work of art, Landy erects a museum monument dedicated to the life of his parents. The respect and admiration this conveys are evident, but Semi-detached is also a subtle indictment against a society that uses human lives as disposable products and discards them when they are no longer of economic use.