Rania Matar (b. 1964)
Minty, Kayla, Leyah, Layla, Cambridge, Massachusetts,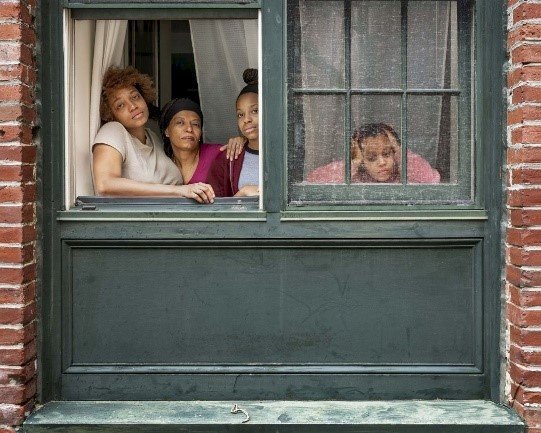 Dorothea Lange's 1936 photo Migrant Mother has become an icon for era of the The Great Depression. We see Florence Thompson with three of her children, the two eldest of whom, perhaps at their mother's request, turn away from the image. The photo, commissioned by the Farm Security Administration, symbolizes the economic malaise that plagued not only America but also the entire world in the 1930s. It is not yet clear how the Covid-19 pandemic will eventually go down in history, but it is certain that the virus has had an impact worldwide. Just as Migrant Mother has been somewhat irreverently labelled "crisis photography", countless artists have sought an artistic path out of the grind of quarantine and untimely news reports during the pandemic. The Lebanese-American artist Rania Matar is one of them.
Matar explores issues such as personal and collective identity through her serial photography. Conditioned western eyes might read her portraits as lavish, even romantic. This may be due in part to the fact that Matar mainly portrays women. But you quickly look beyond the social component that always underpins her work. There are series about the relationship between mother and daughter, families in Lebanon versus families in America and (adolescent) girls in their room.During the Covid-19 pandemic, she started photographing friends and neighbours behind their windows or doors. The project grew into a social document with more than a hundred portraits at an "appropriate distance". It is precisely with the kind of subdued realism seen in the photo Minty, Kayla, Leyah, Layla, Cambridge, Massachusetts, that Matar has recently attracted the attention of museums. The image forces us to think about how we relate to each other. Is there a "them" and a "we"? In any case, the virus does not discriminate. It is also a recognizable picture. In the end, we have all sat behind the window for a shorter or longer time, waiting for the day when the measures would be lifted.
The photo was taken at the very beginning of the Covid-19 pandemic, when the heaviness was still felt in full force and people walked around in their pyjamas all day long. As time passed, we became more and more accustomed to the new situation, with Zoom meetings and online classes. People started dressing like that again and you can see that in later photos from the series On Either Side of the Window.
Matar himself describes the evolving of the series On Either Side of the Window beautifully: "As the months passed and the new normal slowly set in, the portraits started to change, with the window acting almost as a stage and the people becoming active participants in the photo session by dressing specially. Their own ideas and input became an important part of the interaction and therefore of the photos."