Rory Pilgrim (b. 1988)
'I guess we are not ready for this yet, are we?'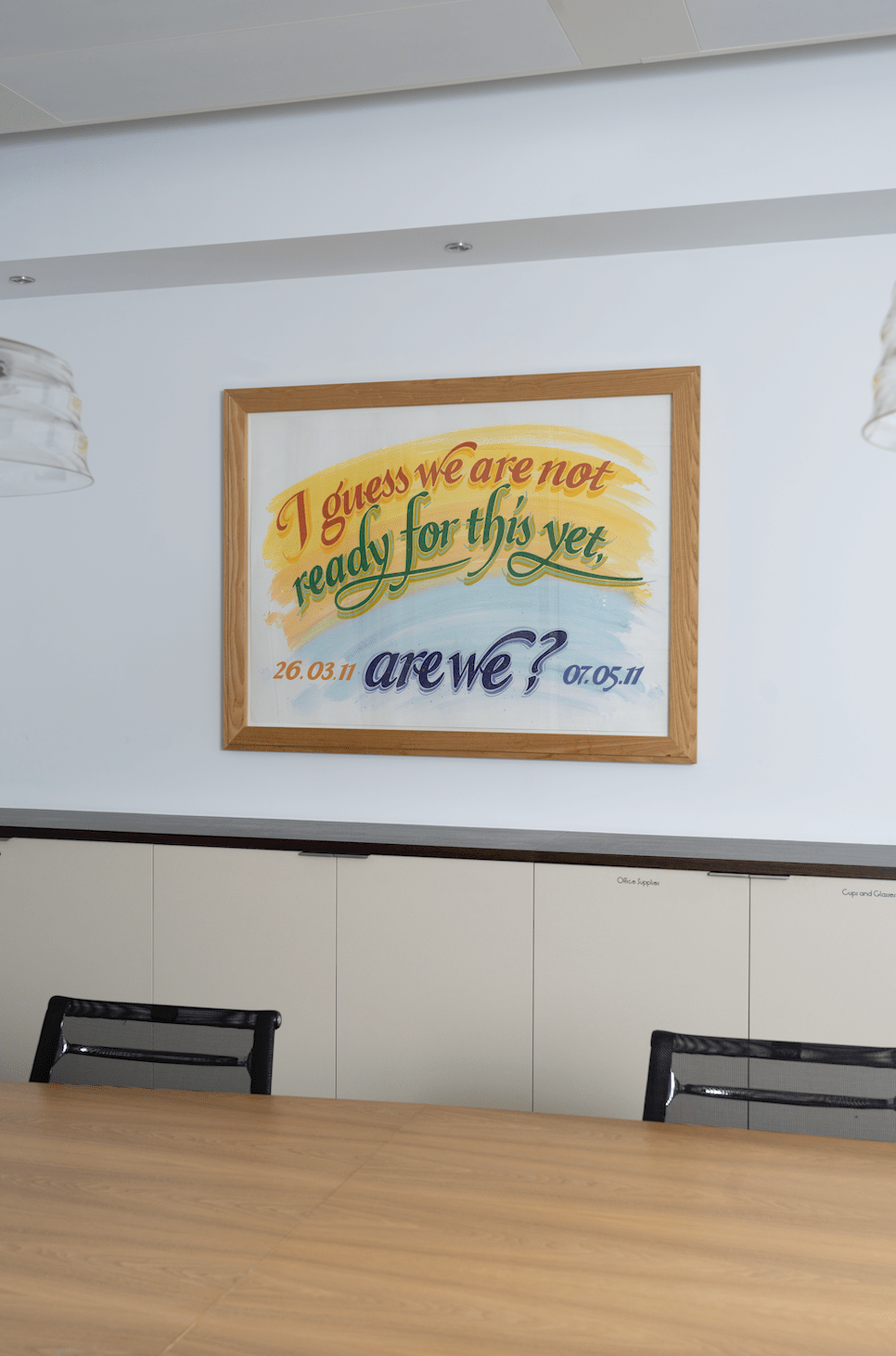 "I guess we are not ready for this yet, are we?" and "Come in, you're welcome" are two ordinary English sentences with an undefined meaning, transformed into a work of art by Rory Pilgrim.
I guess we are not ready for this, are we? stems from a sermon by Jay Bakker, a young, influential American television pastor who preaches a progressive, contemporary and open version of Christianity. Come in, you're welcome is taken from an evangelical leaflet of the American Quaker movement. It is an obvious invitation for dialogue. Separated from their original (religious) context, the texts act as a call for universal acceptance and equality. This ties in closely with the socially engaged and activist art of the 1970s and 1980s in the United States.
Both drawings were shown in the exhibition The Rainbow, created in 2011 by Pilgrim for the Paul Andriesse gallery. Using this somewhat poetic LGBTIQ+ title, he researched, according to the invitation he sent out at the time, "the symbolic, cultural and natural characteristics of the rainbow". This broad and multi-interpretable theme gave Pilgrim the freedom to use his personal, religious and musical background. Pilgrim defends the theme of gay emancipation in this exhibition, which is still a topical issue given the still widespread opposition to same-sex marriage.
Rory Pilgrim (b. 1988)
'Come in, you're welcome'
Transformation is a key concept in Pilgrim's work. The artist argues that everything is subject to change, including the content of all kinds of texts.
During the opening of the exhibition in Amsterdam, four singers performed the song The day after that in an edited version by Pilgrim. The song's most well‑known version is Liza Minelli's from 1993. It became a symbol of hope and willingness to act during the global AIDS epidemic of that decade. Pilgrim likes to encourage a transformation in personal thought. His art invites you to do so time and again. Many people are stuck in their routines for life, but every once in a while, a small impulse can bring about big changes.
The two prints in the Allen & Overy collection weren't made by the artist himself. Pilgrim is known to hire renowned poster makers with years of experience in the advertisement painting industry. In doing so, he unites artists from various disciplines and from various corners of the world in a close-knit collective.
Coming back to the topic of transformation: Allen & Overy also contributes to transformational thinking. Come in, you are welcome is located near the bar on the eighth floor. The artwork again functions as an invitation, albeit with tongue-in-cheek, to come together in harmony.