Tom Lore de Jong (b. 1988)
117 BLACK BIRDS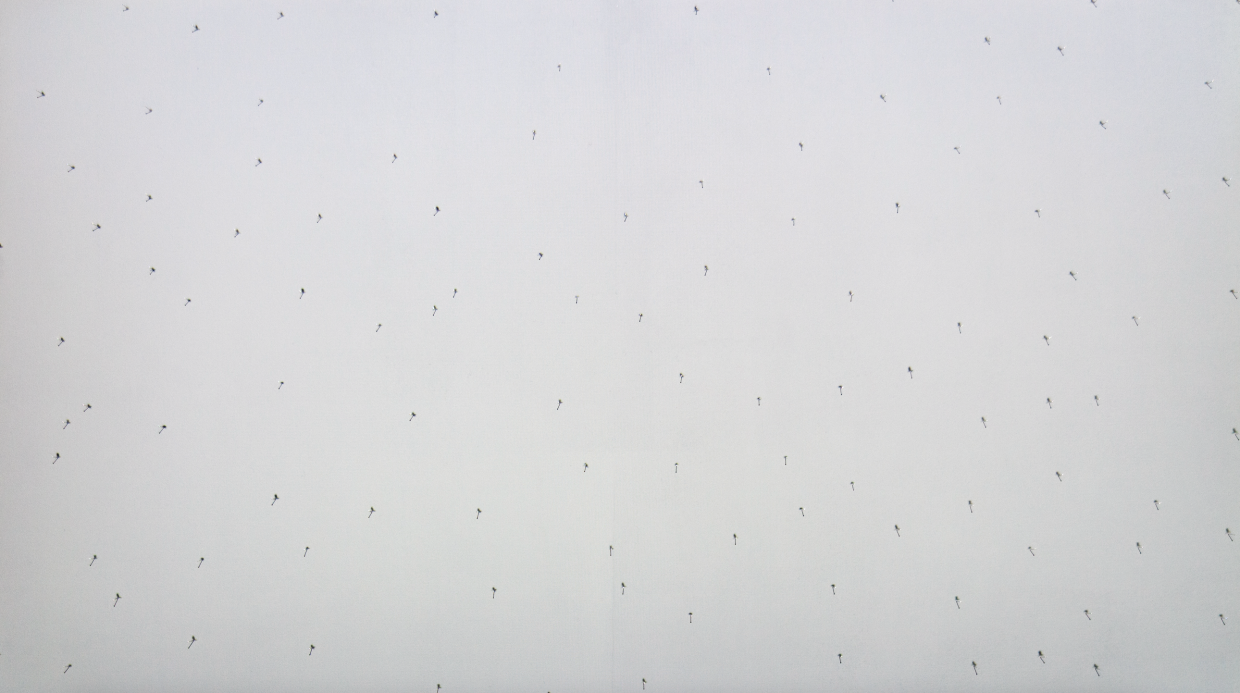 Tom Lore de Jong completed his education at Amsterdam's Rietveld Academy in 2013, where he specialised in photography. His final presentation includes the video 117 Black Birds. The literal meaning of 'blackbird' is, of course, the bird species blackbird. In the case of Tom Lore de Jong's video, we should read the title in a more general sense, as 'black bird'. The breed is not specified.
Lore de Jong is fascinated by nature and seascapes. Whilst on holiday in Curaçao, he filmed the ocean as seen from the beach. Looking back at what he recorded, there appeared to be a black bird in the film. That bit, nine seconds to be precise, has become the starting point for 117 Black Birds. We keep looking at the same loop. The artist digitally cuts the bird out of his sea-themed film and then multiplies the frame 117 times within one frame.
For Lore de Jong, fascination goes beyond mere observing, experiencing and filming. He wants to capture the moment to always remember. He owns the moment; he controls it. In his urge to control, he goes beyond pure registration. He literally captures the bird by poking it on the wall with a pin. Where Fabritius' Goldfinch (part of the Mauritshuis collection) is a representation of a goldfinch chained by humans, Lore de Jong as an artist chains the free bird. He stops time by using a moving image and as such, captures the memory of that one bird and that specific moment in Curaçao.
The pins in the field of view evoke memories of collector's cabinets full of prepared and pinned insects. Flying animals that were once freer than anyone else in a way, are pinned down. Collectors have a similar urge to own and order. In addition, the pins play a major role in the image, especially due to their shadow. In relation to the bird, the size of the drop shadow is monumental, almost the size of a flagpole. Proportionally, the bird is quite small. The shadow of the pin gives the bird slight freedom of movement, just like the Goldfinch can just about make a short escape attempt, – in vain, of course.
The sea isn't even visible in the film. Still, the artist hopes to convey the feeling he once experienced at the beach, gazing into the distance across the waves. Many people know that deeply rooted longing for an unobstructed ocean view. At the beach, thoughts can arise or wander off. You can forget about your worries and clear your mind. Air, water, light, smell and sound tingle all senses at the same time. It is still practically impossible to take this ever-changing interplay of elements with you. In any case, Tom Lore de Jong makes an attempt.