Toon Teeken (b. 1944)
Blind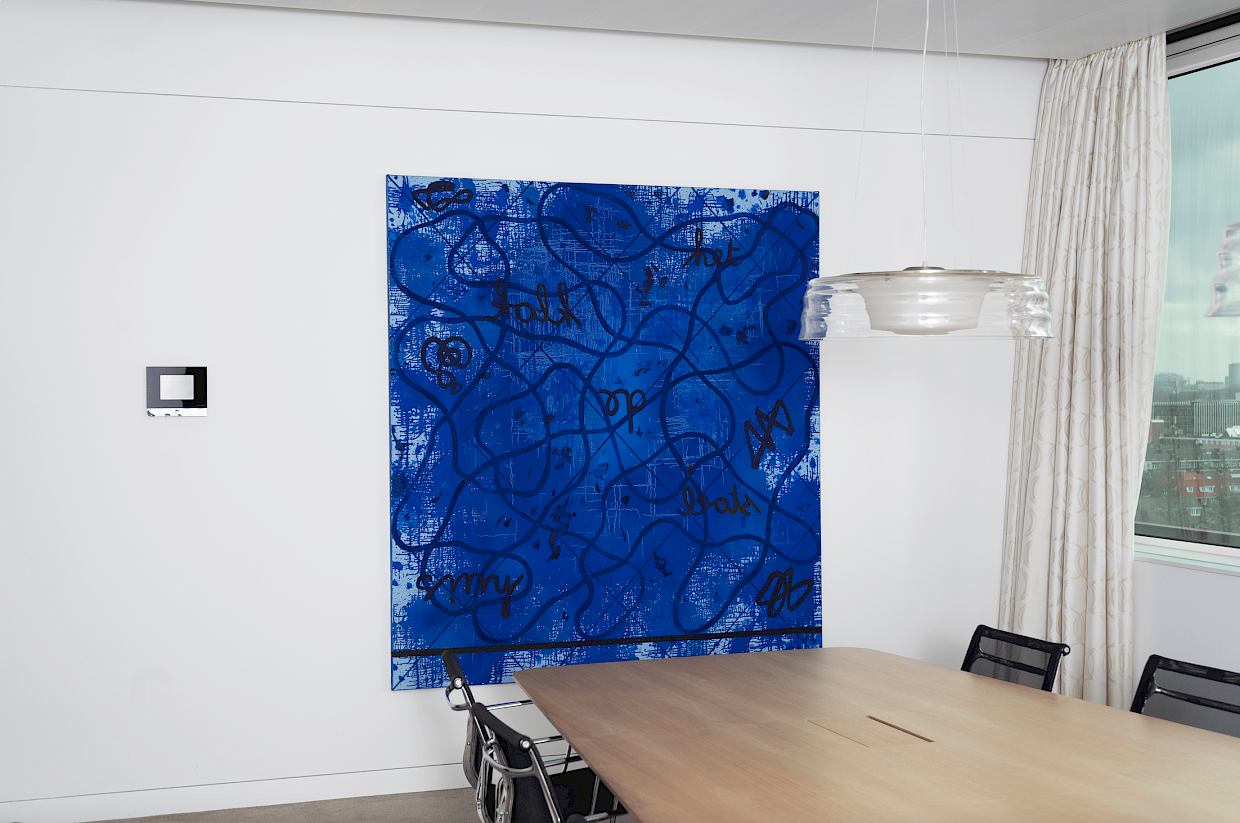 The two works by Toon Teeken in the Allen & Overy collection came from the former Loeff, Claeys Verbeke, office, which is to a significant extent the origins of Allen & Overy the Netherlands. Not only have the paintings survived the merger, but also the ravages of time. These works date from the early 1990s but appear fresh and contemporary.
Born in Heerlen in 1944, Toon Teeken's body of work as a painter is broad, but he has also been actively involved in photography in recent years. He makes wonderful collage-like photos, in which the interplay of lines and repetition seems to be an abiding principle. The interplay of lines is also what we see again and again in Teeken's paintings.
The painting Blind is no exception. First, Teeken creates a background of blue paint that bleeds at the edges, an effect likely obtained by frequently turning the canvas while the thick paint was still wet. Towards the centre, Teeken also creates offshoots, but negative ones, so light plays against a dark background. These light tears of paint appear to be the result of a chemical process of repelling and expelling, which may stem from combining acrylic paint with grease. Across this complex background, we see Teeken's meandering lines, which are both decorative and connective. The viewer ends up following these paths, though the lines don't have to be strictly and forcibly trailed in order to appreciate the painting. Words such as "huis" (house), "de" (the) and "het" (the) are written in between. The title Blind is aptly chosen because some words are barely readable; they're upside down or appear to be mirrored. Did the artist draw the lines blindly or intuitively? The interplay of lines, in combination with the words, reminds us of a map. It's possible to see it in this way, as "Mapping of the world" isn't an uncommon theme among artists, but Teeken doesn't provide us with a legend other than a title, so we're basically interpreting the work at random.
Toon Teeken (b. 1944)
Tol betaald (diptych)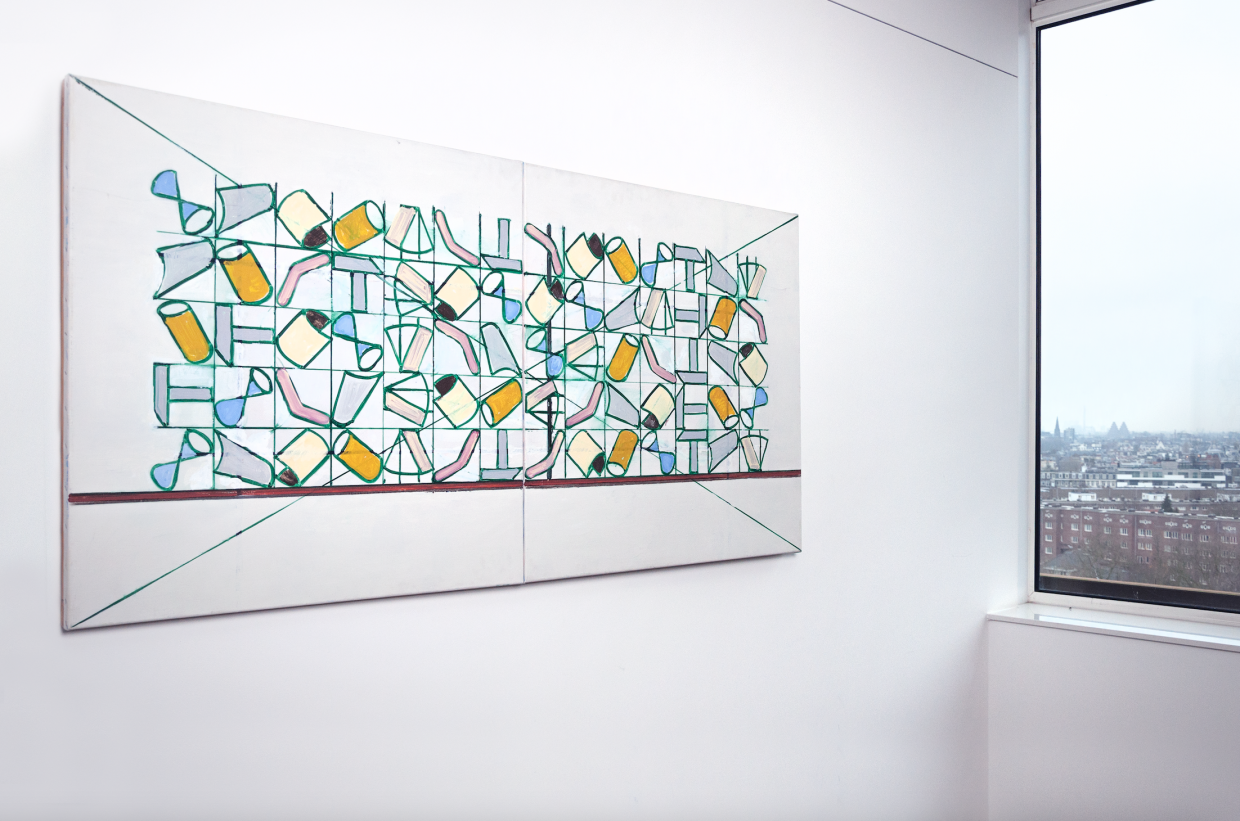 The diptych Tol betaald (Toll Paid) is also based on a pattern of lines, but it is totally different compared to what we see in Blind. These lines form the framework for a kind of still life of symbols and shapes. For many art historians and artists, Cézanne is the patriarch of modern art. This has to do with his radical view that all shapes in nature can be reduced to the geometric shapes of a cylinder, sphere or cone.
Cézanne's basic shapes, whether or not mildly modelled, are prominently featured in Tol betaald. Is there a link between Teeken and Cézanne and who pays the toll for the title of this work? Again, it's hard to tell, but it is certain that many artists struggle to break free from the work of their great predecessors. Once, however, you've gathered plenty of skills and paid the toll of years of hard work and experimentation, you can start to outline your chosen route on the map as a free artist.